Ernest Frazier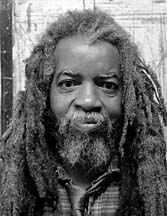 1942 - 2004
---
Ernest Frazier was born in 1942 on a farm in Duboise Crossroads, South Carolina. He was moved to New York City as an infant and lived in Harlem. During the 1960s he attended the School of Visual Arts in New York City.

After several group and solo exhibitions in 1972 Frazier was invited to exhibit in "Contemporary Black Artists in America" at the Whitney Museum. A second exhibition at the Whitney in '72, "Contemporary American Paintings" also featured Frazier's work. The following year, 1973, Frazier was invited to exhibit in the Whitney Biennial and in 1974 he showed in the Whitney exhibition, "The Twentieth Century, 35 American Artists."

In 1973 Frazier purchased and restored an abandoned, red brick foundry building in Saugerties, NY. In the decades that followed, Frazier lived and worked in Saugerties, exhibiting extensively regionally.

The bibliography of Frazier's work includes Art Forum, The New York Times and The Village Voice. Collections holding his work include the Whitney Museum, the Brooklyn Museum and the Schenectady Museum.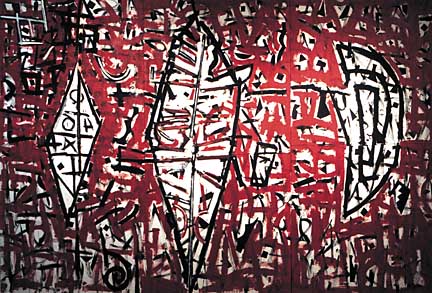 Untitled, 96"' x 144"', acrylic, tar paper and metal on canvas

Untitled, 20" x 18", acrylic on canvas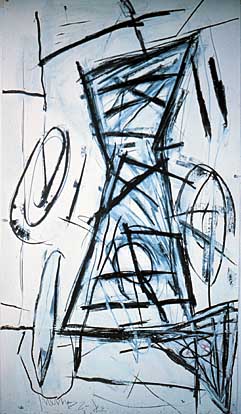 Untitled, oil stick, acrylic and charcoal, 45" x 32"
Gallery Artists Page * Gallery Profile * Artist Info * e-mail