Current Issue Highlights More Readings DA Home About Direct Art

Liang Guo

Eye From Another World
by Jane Tenasi
---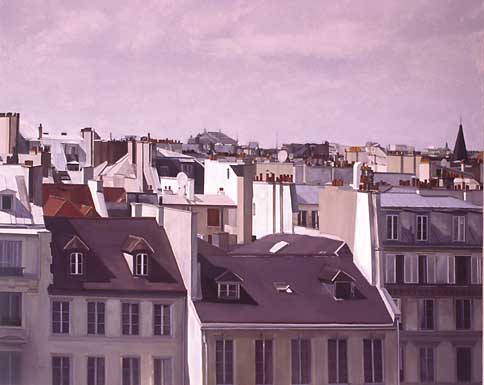 Greyish Blue Sky, Oil on canvas, 48" x 60"
Liang Guo sits in front of his easel, a cup of tea on the table next to him. The dining and livingroom area of his modest two-bedroom apartment has been converted to his studio. It is a situation of sacrifice, not just for the artist, but for his wife and daughter who live in the apartment. The family has accepted his dedication to his craft, everyone lives together with the paintings and materials dominating the space. Liang's wife was an artist also, but decided to change her career to finance and support the artist. His daughter too had an interest in art, but Liang convinced her otherwise—
"I tell her again and again if you don't want to sacrifice yourself for art, you won't be a real artist. Being an artist, you have to be used to loneliness, to tolerate not being understood, above all, you have to fight with yourself all life long to reach the art consummation."
The consummation for Liang involves using realism to express his "art spirit." He sees this spirit as a philosophical theory reflected in his misty, surreal paintings of buildings. Refining this theory takes a great deal of time and preparation—
"I paint about six hours a day. I use the rest of my time to do preparation or reading books on philosophy and psychology. I constantly refine the paintings until I am satisfied with them. There is a Chinese saying that it takes 10 years to make a fine sword. I truly believe it."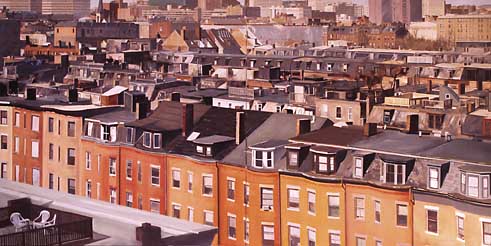 Massachusetts Avenue, Oil on canvas, 40" x 80"

Liang feels a recent series of work he started in 1998 best reflects his goal, his ideal paintings. They are based on cityscapes, portraits of large western cities, primarily Boston and New York. A few years after beginning the city paintings, Liang traveled to Paris and had what could be described as a mystical experience—

"I was in Paris, standing high on the Center Pompidou and looking down to the city, thousands and thousands of buildings dotted with old churches and palaces appeared before me. They were glittering in the vast gray colors. My heart was beating faster, I was astonished to see the splendid scene, and I realized it was the rays of the light of the nation's culture. I saw, from the common sight the local people see everyday, the deposit of a nation's history."

The experience inspired a series of works based on Paris where Liang tries to express the life and soul of the city. He sees his paintings of the walls, bricks, tiles, windows and chimneys of Paris as a portrait of an inner soul possessed by the city itself—not necessarily of the people—but of the city as a cultural artifact and symbol. It is an interesting approach, influenced in part by the artist's background.

Liang was born in the early 1950s in northeastern China and lived there for over 40 years before immigrating to the United States in 1995. His art training began at an early age. His grandfather used traditional Chinese painting books to teach him Chinese brush painting. It was not a formal teaching, but by copying the samples in the books he learned the different kinds of strokes used to represent various objects. The media was limited to brushes, ink and rice paper, but with this he

developed his early skills.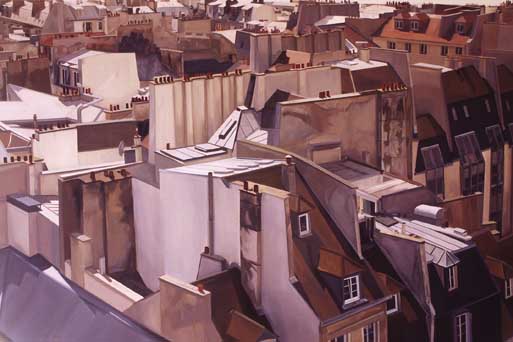 Windows, Chimneys and Walls, Oil on canvas, 40" x 60"

In his teen years the artist saw his first solo show of a living artist. The artist was a well-known watercolorist. The work inspired Liang

—

"His paintings gave me deep inspiration, the atmosphere, the way he used the color and water, all seemed so fantastic to me. I was not satisfied with the black and white world any more, and I turned to watercolor, which I felt could better represent the real things around me."

Liang continued practicing watercolor until the Culture Revolution started in 1966. Years of chaos followed, during which he was sent to the countryside to receive reeducation from the peasants. Since he had the ability to draw and paint, he was selected to work with a group of people in the area to create pictures for political propaganda. There were professional artists among the group who gave Liang instruction in the practice of oil painting. It was there that he made the first oil painting of his life, a portrait of Chairman Mao. Liang's technical skills developed and he was selected to study fine art at the college level. It was a dream come true for the young artist; his hobby had become a career. As time went on he was employed as a college painting instructor. The work provided him with both a stable salary and time for his painting. His works was selected for local, provincial and national art exhibitions, also showing in Singapore and Japan. Yet these exhibitions required an artist to work in a certain way, as only certain styles and subjects were esteemed. It was the desire to paint what he wanted, to express his inner self that lured him to America.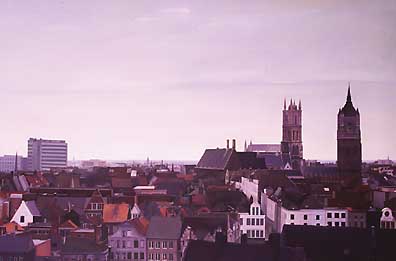 Purple Light, Oil on canvas, 32" x 48"

Liang immigrated in 1995 and once in the United States everything changed. The reputation he had built in China was gone. He had become, like so many artists in America, anxious, depressed and broke. For a time, he felt he would return to China, but with his family's support he was able to remain and pursue his desire to paint his inner spirit.

Liang is a long way from his country, sipping tea in his two-bedroom apartment studio. He has left a distinguished career as a professor and artist in his homeland to live as a relatively obscure painter in a strange land. But perhaps it is the very strangeness, his lack of familiarity with western culture that allows him to see it in a way that we cannot. Things we take for granted, the mortar and bricks of our culture, breathe life and soul to him. Where we see only shingles and rooftops he sees energy transforming into art.

"...the big cities. I paint them with the eye of a man from another world, or a human being from another planet."
---
Current Issue Highlights More Readings DA Home About Direct Art