Current Issue Highlights More Readings DA Home About Direct Art

George Crosby

Denizen of the Dark by Ronald Furlough

From Direct Art Magazine, Volume 6, Spring 2002
---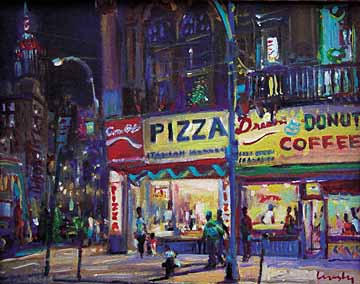 Pizza, acrylic on canvas, 11" x 14"
We had just turned the corner ... heading from trendy Ludlow Street onto East Houston, when we encountered the artist/painter George Crosby, busy at work. It was 3AM. The first thought that came to mind was ... what are you painting? The neighborhood, though decidedly our current destination, seemed a tad dark and forbidding at that cold hour. "I'm constantly searching for that odd angle, the confluence of the old and the new ... New York in other words." Mr. Crosby put it succinctly and his words were not all. The painting was marvelous, a potpourri of classic easel painting etiquette, transformed by the exigencies of the here and now.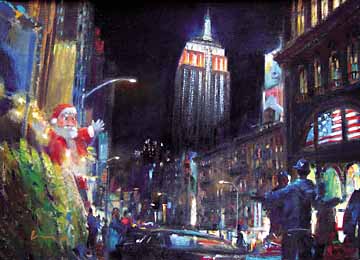 Christmas 2001, acrylic on canvas 28" x 36"
"I try to find the painting in the patchwork of architectural elements, you know, like the illuminated signage and above all its denizens ... of the dark.
Crosby admits to little, save his Irish Catholic background. He studied at Cooper Union during the sixties and has been painting ever since. "Over thirty years of daubing away ... you pick up some tricks," Crosby casually remarks. "I've been walking these streets since I was a kid ... seeing them through the seasons, you know, rain and shine. The snow's particularly a nice effect. I've lived in Japan, traveled across China and learned to see painting as essentially design, after all."
Mean Streets 14th and 3rd, acrylic on canvas, 24" x 28"
Returning to New York City in the late 1990's, Crosby joined a number of street artists who display their work in Soho. Perhaps more appropriately termed Shoe'Hoe these days, the once cutting edge downtown scene has given way to fashion of a decidedly conservative cut. Yet the cast iron district and all of downtown Manhattan still provides a stage for the whole world to play out their own New York Stories. At night the streets come alive. The starkly cast shadows and blinding headlights play against seemingly ancient walls, at times bathed in neon. A design sense once nurtured in the Orient takes on the daunting task of rendering the prosaic into poetry.
"For every success there are several failures ... I try to refine my own personal vocabulary along the way. I sometimes even learn something from my clients. Call it illustration, whatever, I love telling my story through painting. Where I worked and played, ate and drank, laughed and cried."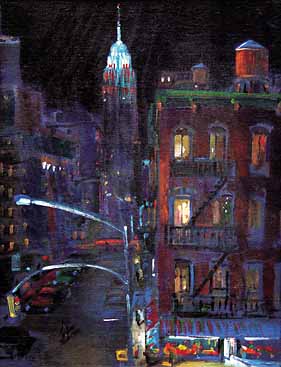 West 33rd St., acrylic on canvas, 24" x 18"
Manhattan street art has a relatively long background. The Village of the 1920's lives on in the work of Sloan and Glackens among others. "Have you seen the small etching, done by Sloan, of Washington Square? Done from the top of the monument at night, it features a nocturnal drinking bout with Marcel Duchamp, of all people." The 30's saw the forging of the universal image of Manhattan. The etchings of Australian expatriate Martin Lewis are an acknowledged source for Crosby's themes. "A late night eatery in Chinatown hasn't changed, not really. Or the steaming cup of noodles bowl in Times Square. Sure, maybe it was once a smoke ring from a Camel."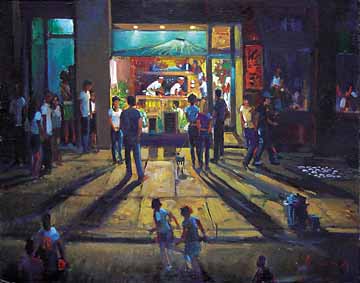 Below Canal St., acrylic on canvas, 24" x 36"
"Back in the 70's I found a cheap loft in Union Square. I came in at the tail end of an era that included the likes of Reginal Marsh and Paul Cadmus. Their innate sense of design and debt to the wealth of art history, especially the Italianate always fascinated me. That a Coney Island beach mob could be cast in the mold, of say, Poussin, that offered endless hip possibilities. Hip may be a somewhat more mercurial concept these days.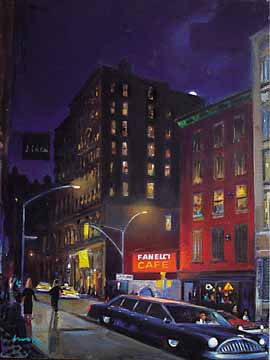 Full Moon Rising, acrylic on canvas, 24" x 18"
Time advances, energy flags, self doubt arises." Yet to hear him tell it, this intense individual sees painting as eternal. No matter how convoluted the technology evolves, figurative painting will endure, says Crosby. "I see it in kids eyes when they happen upon me in the street. Their parents are quicker to take flight at first glance, yet the kids stand firm, intent on deciphering my actions. Easel painting draws a crowd."
Current Issue Highlights More Readings DA Home About Direct Art